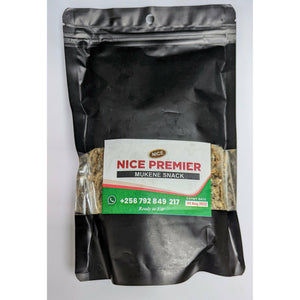 Nice Premier Silver Fish (Mukene) Snack (Product of Uganda)
Nice Premier Silver Fish (Mukene) Snack (Product of Uganda)
Silver fish is small in nature and commonly known as mukene in Uganda. These are between 25 and 50 millimetres long. It is got from L.Victoria, Kyoga and Nabugabo. In Kenya, Silver fish is known as Omena while Daaga in Tanzania. Silver fish is eaten wholly including the head, fins and guts.
It contains calcium that is good for strengthening the bones
It is a source of amino acids that boost immunity of the body. This prevents malnutrition and helps to fight diseases like flue and cough.
It has Vitamin A and E that prevent poor vision and maintain healthy skin and eye tissue. Vitamin A assists in night vision.
It has proteins that are essential for building and repairing muscles, organs, skin, hair and other body tissues.
Silver fish contains Omega-3 fatty acids which are good for keeping the heart and brain healthy. T