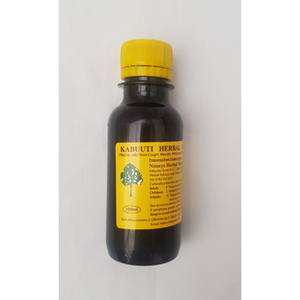 Kabuuti Herbal Cough Syrup (Product of Uganda)
Kabuuti Herbal Cough Syrup (Product of Uganda)
This combination product is used for the temporary relief of cough, sneezing, or runny nose due to the common cold, hay fever or other upper respiratory allergies. This product contains a non-opioid cough suppressant (such as chlophedianol, dextromethorphan).
It affects a certain part of the brain (cough center) to help you stop coughing. This product also contains an antihistamine (such as triprolidine, chlorpheniramine, doxylamine) that works by blocking the effects of a certain natural substance (histamine), which causes allergy symptoms. It also has a drying effect.
Talk with your doctor before using this product for a chronic cough from smoking or a cough with too much/thick mucus.