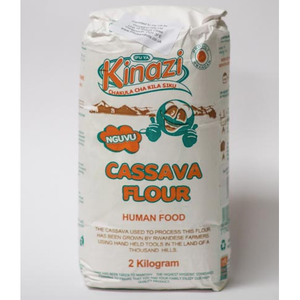 Kinazi Fine Cassava Flour (Product of Rwanda)
Regular price £12.99 Sale
Kinazi Fine Cassava Flour (Product of Rwanda)
** GLUTEN FREE**
Cassava flour is a gluten free flour extracted from the root of the cassava plant. Its fine nature makes it perfect for baking, making fufu, ubugali (ugali) and other traditional African dishes.
Unlike many other cassava flour brands, Kinazi has a very light texture meaning that it raises very well. It's suitable for coeliacs, vegetarians and vegans. Carefully monitored by the Rwandan Standards Board, this wet milled flour is fully certified gluten free. It's manufactured with a stringent HACCP. Over 658 tonnes of flour are currently exported annually.

The major product of manufacturer Kinazi Cassava Plant (KCP) is this high-quality flour which is processed from freshly harvested cassava tubers. The fresh cassava tubers go through a series of processes after which it is turned into the fine flour.
Paying fair price for the cassava produced is not enough. Kinazi believes in increasing farmer produce capacity so that they can produce more and earn more. By providing basic knowledge and advice to the farmers on how to increase land production, Kinazi goes beyond to help its farmers.