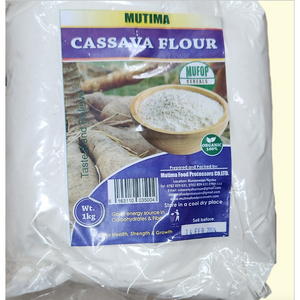 Mutima Foods Cassava Flour
Mutima Foods Cassava Flour
**Gluten Free**

Cassava flour is derived from the cassava plant native to South America and parts of Asia. The plant produces tuberous roots that can be used in a variety of ways.
Cassava flour is formed by peeling back the bark, dehydrating and grinding into flour formation. It is very popular when it comes to gluten free baking and is widely used in places like Bali as a staple flour for bread making.
It is high in fibre and grain free since it comes from a root vegetable and is high in carbohydrates, much like a potato. When organic cassava flour is used in baking, it has a very similar appearance, texture and bounce to wheat flour with a very mild flavour.
Many say that cassava flour is the same as tapioca flour, however they have distinct differences. Tapioca is taken from the root unlike cassava that is the entire root. It then undergoes a process of washing and pulping to create a liquid starch, which is then left to evaporate. Once the starchy liquid from the cassava root extraction has evaporated it leaves a flour-like substance behind, which is known as tapioca flour.